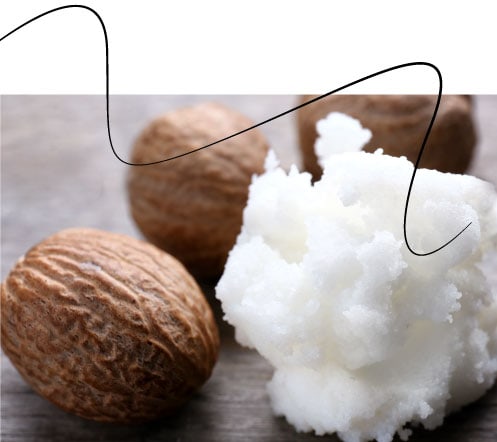 Shea butter : helps intensely moisturize your skin
Its rich, creamy texture helps intensely moisturize skin and form a protective barrier against external aggressors.
Shea butter is a versatile organic ingredient, ideal for caring for your skin during the frosty winter months. Shea, also known as Shea Butter, is extracted from the nuts of the Shea tree, native to West Africa.
It is rich in vitamins and essential fatty acids, making it a valuable ally in maintaining skin health and elasticity.
One of Shea's most appreciated benefits is its ability to deeply moisturize the skin. Use our Shea butter-based products all over the body, paying particular attention to dry areas such as elbows, knees, and feet, for soft, supple skin even in freezing weather.
Can I use shea butter in my natural summer beauty routine?
Absolutely! Shea butter can be used in your beauty routine all year round, including during the summer months.
Although it is often associated with winter use to moisturize and protect the skin against the cold, shea butter also offers many benefits during the summer.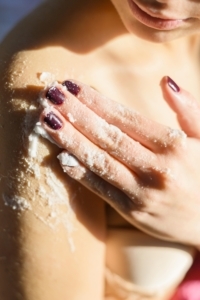 1. Light moisturizing: Unlike heavier body butters, shea butter can be used in summer to moisturize skin without leaving it feeling greasy or heavy. Choose a light version or a formula specifically designed for summer use, such as Anticosti body butter, to take advantage of its moisturizing properties without weighing the skin down.
2. Natural sun protection: Although shea butter cannot replace adequate sun protection, it can act as a natural complement to protect the skin from UV rays. It contains a low natural sun protection factor (SPF) of around 4 to 6, providing a light barrier against the sun's rays. However, it is important to stress that this is not enough for prolonged exposure to the sun.
3. After-sun care: After exposure to the sun, shea butter can be used to soothe and repair the skin. It helps reduce redness, inflammation and irritation caused by UV rays, while deeply moisturizing to restore the skin's softness and suppleness.
4. Hair care: During the summer, hair can also be damaged by the sun, salt water or chlorine from swimming pools. Shea butter can be used to nourish and condition dry, damaged hair. Apply a small amount to the ends or use as a hair mask before shampooing for softer, stronger, shinier hair.
In addition, Shea has soothing, anti-inflammatory properties that can help calm irritation, itching and redness. In the case of eczema or dermatitis, regular application of Shea-based products can help soothe symptoms and promote skin healing.
How to use shea butter in summer?
Give your skin the love and attention it deserves this summer with our nourishing body butter.
Use after showering, treat yourself to a relaxing massage or apply before bed for radiant, moisturized skin in every season.
Enjoy the benefits of shea butter and coconut oil for soft, smooth, radiant skin under the summer sun.
Give your skin a luxurious experience and discover the secret of dazzling summer beauty today!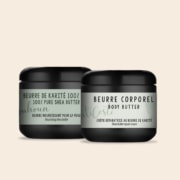 Have you heard about the quality criteria for shea butter products?
One quality criterion is the shea butter extraction process. A cold extraction is preferable, as it preserves as much of the shea butter's nutrients and benefits as possible. It also ensures that the butter retains its creamy texture and natural properties intact.
The color and texture of shea butter can also indicate its quality. High-quality products have an ivory or pale-yellow color, while a dark green hue can be a sign of inferior quality. In terms of texture, good-quality butter is usually soft, creamy and melts easily on contact with the skin, like Anticosti, our firming body butter that provides intense hydration for 48 hours.
By incorporating Shea products into your skincare routine, you can enjoy the moisturizing and nourishing benefits of this natural ingredient. Our Shea-rich organic products will provide your skin with intense hydration, leaving it soft, supple, and radiant.
So, if you're looking to deeply moisturize your skin, be sure to add the Sika Cosmetique product line to your face, body and foot care routine and discover the benefits of this natural, 100% organic ingredient.
https://sikacosmetique.ca/wp-content/uploads/2023/07/blogue_gommagecorporel-scaled.jpg
2560
1703
Zule Munoz
https://sikacosmetique.ca/wp-content/uploads/2021/05/pixel.png
Zule Munoz
2023-07-18 13:39:17
2023-07-18 13:39:23
Natural beauty secrets: Reveal your radiance with Shea Butter